Restoring the Splendor
of
Little York Lake
Presented by Hage Real Estate
It's time for the pizes. 
Today's winner is #18, receiving a $25 gift card from Doug's Fish Fry. Congratulations! We will call you shortly to confirm your address.
Our sponsor for tomorrow is Hi-Lanes Bowling Alley, a family-friendly place to enjoy good fun and good food.  Visit their Facebook page to see their latest schedule and league updates. Thank you for your support.
Remember, even if you win, you are entered for every other drawing.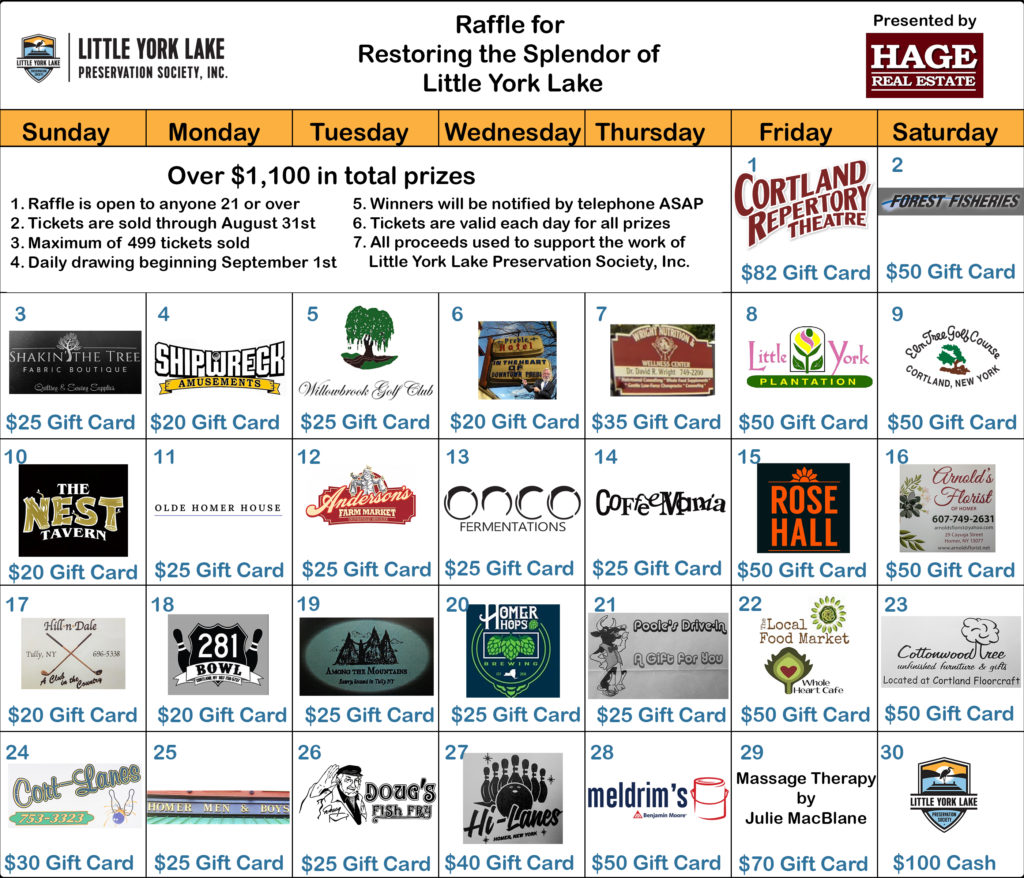 Thank you to our sponsors:
| | | |
| --- | --- | --- |
| 281 Bowling – $20 | Homer Men and Boys -$25 | Cortland FloorCraft -$50 |
| Hill and Dale Golf Course -$20 | Olde Homer House -$25 | Elm Tree Golf Course -$50 |
| Preble hotel -$20 | ONCO Brewery -$25 | Forest Fisheries -$50 |
| Shipwreck Amusements Mini Golf -$20 | Poole's Drive-In -$25 | Little York plantation -$50 |
| The Nest Tavern -$20 | Shaking the tree -$25 | Meldrims -$50 |
| Among the Mountains -$25 | Willowbrook Golf Club -$25 | Rose Hall -$50 |
| Anderson's -$25 | CortLanes -$30 | The Local Food Market and Café -$50 |
| Coffee Mania -$25 | Wright Chiropractic, Ion Cleanse -$35 | Massage Therapy by Julie MacBlane -$70 |
| Doug's fish fry -$25 | Hi-Lanes Bowling -$40 | Cortland Reperatory Theatre -$82 |
| Homer hops -$25 | Arnold florist -$50 | Little York Lake Preservation Society -$100 |
Presented by