We've been working diligently for the potential milfoil treatment that we first presented in our mid-December letter. We have:
Issued an RFP and received 3 bids to treat the lake
Selected a vendor, Solitude Lake Management, and began working with them
Refined the treatment map to cover a larger percentage of property owners
Learned a lot
This has involved multiple board meetings, conference calls and discussions with vendors.
We plan to treat the lake with Navigate which is the brand name for 2,4-D, a widely used herbicide. This will be applied in a granular form which minimizes drift.
The restrictions on water use post treatment are listed in the table below. To minimize the impact on downstream users (south of the dam) we plan to lower the lake to near its winter level and hold the water in the lake for 24 hours.

In order to maximize the number of properties we can treat with this herbicide and minimize the downstream impact, we had to strike a balance between the amount of herbicide we can put into the lake and the holding time of the dam. Unfortunately this means that some properties cannot be treated in this round. However, assuming this initial treatment is successful, we intend to continue treatments in the coming years and eventually treat all property owners' lakefront.
The planned treatment area is pictured in the map below (click on it to get a full-sized version).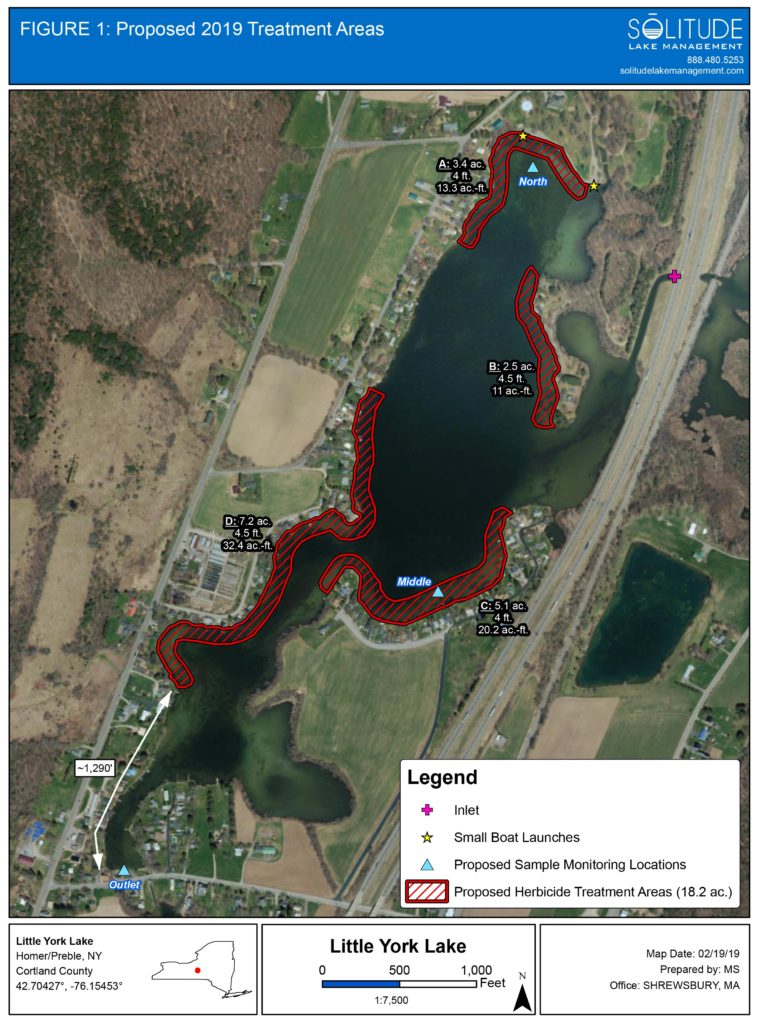 The two main areas that are not being treated are portions of the western shoreline in the upper lake and the southern end of the lake just above the dam.
The western shoreline is relatively deep and would require twice as much chemical per square foot to effectively treat. Treating this area would substantially reduce the total treatment area. We are not able to treat from 6222 Little York Lake Road south through 6180 Little York Lake Road in this round.
The southern end of the lake is too close to the outlet and the chemical will not effectively dilute during the holding period. Treating this area would have also substantially reduced the total treatment area. We are not able to treat properties from 6054 Rt. 281 south in this round.
We are in the process of applying to DEC for a permit for treatment during May. While approval is not guaranteed, preliminary feedback from both DEC and Solitude give us reason to be optimistic.
Now is the time to get involved with the our lake association so that you can help us to continue our efforts to restore Little York Lake and preserve it for future generations. Become a member today!